To cut to the chase - in my eyes, the way we currently handle timelines (the Biography sections followed by headers for game recaps) isn't fit for purpose anymore. This is because of new information about past events revealed in later entries (most notably Ryu ga Gotoku Online) that don't fit neatly under any existing subheading.
I'll use Daigo Dojima as my example, but this applies to more than one character, or else I wouldn't bring it up. The information revealed about Daigo in RGGO (so far, at the time of writing) covers a 12 year span from 1995 to 2007. If I wrote it down, timeline-wise, that'd be Y0 to Y1/YK1 to Y2 to Y3.
So of course it follows that the information, while important, cannot fit comfortably under any single one of those headers, under the Biography section, or under its own RGGO section. In our current system, there's nowhere it can be placed without sacrificing clarity by changing the order of events /splitting information, or coming off as disingenuous by putting information under the header of a game where the events described don't match. Like if I wrote about the exact circumstances of how and why Daigo went to jail under his Y0 or Y2/YK2 headings even though those scenes are NOT present in Y0 or Y2/YK2 and in fact occur during the events of Y1/YK1.
So I have two potential changes to propose, one of which is major, but easily-implemented and addresses every issue I've brought up with the current system. The other easily-implemented at the cost of clarity.
The first, the one I favor, is doing away with game headers ENTIRELY for character and perhaps location pages. Replace them with years or ranges of years, like so:
To me, THIS is the best way to go forward without sacrificing clarity or quality. It has basis in how the games are covered on the official timeline and is simple to implement, as the series has a (surprisingly) solid timeline for most major events in any character's history. Each game also covers a very specific year or range of years, so for most characters it would be trivial to automate the process of converting the headings and correct anything that needs correction later. That's what we do, and as with any change I've ever proposed I'm willing to change every single page myself if I have to.
Headings and subheadings can be styled to be more prominent than they currently are so it's not easy to get lost while reading, and as for side games and spoilers I'm sure we can reach an agreement on those as well, but they're not a priority for me.
My other suggestion is simply to allow the use of subheadings and maybe treat headings as points in time rather than strictly game recaps. In that case, it'd look vaguely similar to this: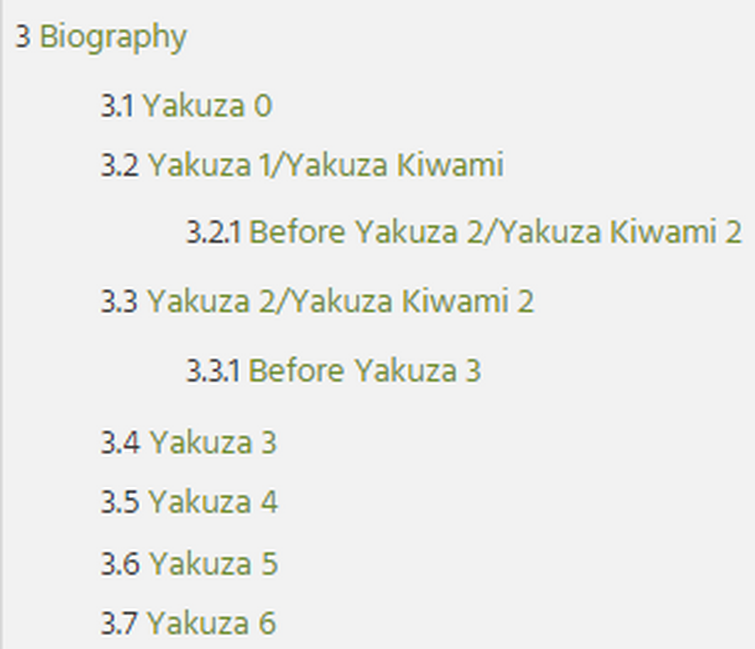 So... not much different from what we have going on. The main game headings don't need to be subheadings, they can still be just as they are now, just with subheadings for events that occur between games. The only thing that needs to happen is adding the subheadings and making it clear that while the events are not shown in-game on the console games, they still happened, and to use citations for that. Messy, but it'll still get the job done.
I look forward to hearing from everyone! In my opinion it's VERY important that we reach some kind of consensus on this soon, as it is proving to be a roadblock to necessary edits on high-traffic pages. In reality it might not seem like a difficult issue to resolve (it isn't), but I don't want to proceed without anyone's input. I thin one way or another, something needs to change.