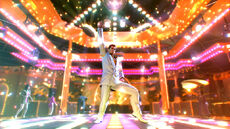 The Disco (ディスコ) is a rhythm-based mini-game featured in Yakuza 0.
The player can access it in Adventure Mode through Maharaja and two players can compete in it from the main menu.
Gameplay
The player can choose one of the five songs available to play in the mini-game and, once a song is chosen, play by moving their avatar to a symbol shown on screen and then pressing the button/key matching the symbol in time to the rhythm and can gain bonus points by moving around the board up to nine times before reaching the symbol.
Successfully pressing the corresponding button/keys in a row will fill the Fever gauge. Once the Fever gauge is full, the player will be able to activate Dancing Fever. Activating it will show a series of directional arrows and pressing the corresponding arrows on the directional arrows of a controller (or the arrow keys of a keyboard) in the right order in time will boost the player's score by a thousand.
Ratings are affected by the Voltage gauge which has four levels. Each level gives the player a star at the end of a song when filled except the fourth one as the highest rating is three stars. The gauge is filled by dancing successfully.
Songs
Friday Night
Queen of Passion
I'm Gonna Make Her Mine
I Wanna Take You Home
Koi no DISCO QUEEN (

恋のディスコ・クイーン

)
Trivia
The disco mini-game's files are hidden in Yakuza Kiwami's files, possibly as left-over files from Yakuza 0 since Kiwami shares the same game-engine 0 has.
Images released a year before the release of Yakuza 0 suggest that the developers planned to let players access the disco mini-game through Deborah, but removed the option later in development.
During the development of Yakuza 0, the character's disco avatars were slightly different from their appearances in the finished game.
Gallery
Images
Videos
Community content is available under
CC-BY-SA
unless otherwise noted.