The Yakuza franchise features a lot of product placement in order to replicate the feeling of a living city in the various red light districts through the food, drink, electronics and entertainment provided. This page lists the real-life brands that appear in the game.
Foods and drinks
[
]

Acecook
[
]
Instant ramen cups made by Acecook appear in stores throughout the Yakuza series. The company is also involved in a substory in Yakuza 3.
Asahi
[
]
In Judgment, Asahi replaces Suntory as the alcoholic brand for the series. Nikka and Asahi beer replaces various Suntory brands for alcoholic and soft drinks. Additionally, before Judgment, the real-life Sapporo landmark advertisement for Nikka Whisky, an Asahi-owned brand, was featured in Tsukimino in Yakuza 5.
Brown-Forman
[
]
Another long-running tie-in agreement is with American drinks corporation Brown-Forman. A number of Yakuza titles feature the Brown-Forman-owned Jack Daniel's and Early Times brands. In Judgment, additional labels such as Camus, Woodford Reserve, Bushmills, and Ben Nevis became available as whiskey and scotch brands.
Imuraya
[
]
Imuraya is a confectionery producer based in Mie Prefecture, whose products can be purchased from convenience stores in Yakuza 6 and Yakuza Kiwami 2, as well as having billboard advertisements in the games.
Orion Breweries
[
]
Orion beer, the most popular brand of beer in Okinawa[1], appears in advertisements and branded Chinese Lanterns in Yakuza 3's Downtown Ryukyu. As a result of its partnership with Asahi to promote the brand outside of Okinawa, Orion also appears as a purchasable beer brand in Judgment.
PepsiCo
[
]
A number of PepsiCo soft drink products, including Pepsi NEX, 7UP, Gatorade, and Mountain Dew can be purchased in certain games. There is a scene where Yoshitaka Mine is seen drinking from a Gatorade bottle in the original Yakuza 3, but the logo was deleted in the remaster as the licensing deal with PepsiCo had expired.
Pizza-La
[
]
Yakuza 0 and Yakuza Kiwami feature the Pizza-La brand. The brand's presence is most notable in the Yakuza 0 substory Passport to Pizza, where Kiryu mistakes a foreign woman needing a visa for saying pizza, and thus orders a pizza from Pizza-La.
Suntory
[
]
The Suntory drinks brand has had a long-running product placement deal with the Yakuza series, their products having appeared in every Yakuza game. The various bars in the series offer a variety of alcoholic beverages that are produced and/or distributed by Suntory in Japan. This includes their own branded drinks, as well as foreign brands such as Carlsberg, Jim Beam, Beefeater Gin, and SKYY Vodka to name a few. In games prior to Yakuza 6, bartenders serving a Suntory liquor would go into a lengthy speech extolling the virtues of the particular drink ordered. In addition to the liquors available at bars, Suntory soft drinks and beers can be purchased from convenience stores and vending machines.
Real-world Eateries
[
]
There are a very large number of real-life eateries that have appeared in the series as tie-ins, ranging from national chains to independent cafés.
Entertainment and shops
[
]
DARTSLIVE
[
]
DARTSLIVE dart machines have appeared in bars since Yakuza 3. In Yakuza 6 DARTSLIVE-sponsored professional darts player Paul Lim makes a cameo appearance as an opponent.
Don Quijote
[
]
Don Quijote stores are found in all Yakuza games, as well as Sotenbori and Tsukimino locations in games set in these locations. A somewhat anachronistic version even appears in Kyoto in Ryū ga Gotoku Ishin!.
Joysound
[
]
Since Yakuza 0, the Karaoke minigame uses Joysound software. Billboards for the brand are also seen in Yakuza Kiwami.
Maharaja
[
]
A popular disco that operated during the height of Japan's bubble economy in the 1980s, and relaunched in recent years. In Yakuza 0, Maharaja discos can be visited in both Kamurocho and Sotenbori.
SEGA
[
]
Given that they are the publishers of Yakuza, it followed that SEGA would feature their own brand significantly in the games. A chain of arcades called Club SEGA has appeared throughout the series, with the largest and most prominent arcade being a fixture in Kamurocho's Theater Square. In these arcades, the player can play various SEGA games such as UFO Catcher, Virtua Fighter, Super Hang-On, and Space Harrier. There are also posters of numerous SEGA titles on the walls of these arcades. In Yakuza 0, there is a MegaDrive toy that can be won from prize machines. In Yakuza Kiwami 2, it is also possible to play Toylets in a Club SEGA restroom. The television in New Serena in Yakuza 3 is branded Sega.
Seicomart
[
]
Seicomart is the largest convenience store chain on the Japanese island of Hokkaido. One of its Sapporo stores makes an appearance in Tsukimino in Yakuza 5.
Vocaloid
[
]
In Yakuza 5, Vocaloid character Miku Hatsune is featured in a number of places. Protagonist Haruka Sawamura can even dress up as her in a DLC outfit.
Others
[
]
APA Hotel
[
]
In Yakuza 6, Shun Akiyama meets Kiryu disguised as a window cleaner on the 6th floor of the APA Hotel. The hotel lobby is also accessible to the player at any time. In Judgment and onwards, the hotel is rebranded as Hotel New Deborah, indicating the licensing agreement has expired.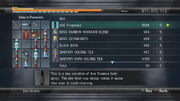 AXE
[
]
Kiryu can buy AXE deodorant in the original PlayStation 3 version of Yakuza 3. Due to licensing issues, the deodorant was replaced by a generic version in the remaster.
ESP Guitars
[
]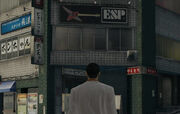 The ESP Guitar brand is featured on billboards in Yakuza 0, Yakuza Kiwami, and Yakuza 6.
GAGA Milano
[
]
Shun Akiyama wears a watch by this Italian brand in Yakuza 5.
Isuzu
[
]
Isuzu branded fire trucks feature in Yakuza: Dead Souls, and there is an advert for the Isuzu GIGA truck on a billboard above the coin lockers.
Sony
[
]
Sony billboards are seen in Yakuza 6, and Kiryu's phone in this game is a Sony Xperia. Judgment also features Sony billboards, but the phones in this game are generic models.
Steinway and Sons
[
]
In the original Yakuza, the grand piano in Ares is branded Steinway and Sons.
Trivia
[
]
Real world store item and business names are written in block capitals in the English localization of the original PlayStation 3 version of Yakuza 3.
Yakuza 5 features so many real-life restaurants that the developers were ultimately forced to use pre-rendered and even photograph-based background sprites rather than modelling the restaurants' interiors in 3D.
References
[
]