Majima Construction is at work!
This article is a
stub
and is under construction. You can help Yakuza Wiki by
expanding it
. Be sure to check out the
manual
before you get started!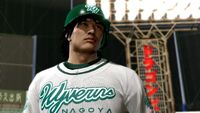 The Nagoya Wyverns are a baseball team in Yakuza 5. One of their former players is protagonist Tatsuo Shinada. Their main rivals are the Tokyo Gigants.
Shinada makes his professional debut for the club in 1997, only to be forced to throw the game and abandon his dreams because of organized crime.
It is revealed later on in the game that Shinada's loan shark Koichi Takasugi is a big Wyverns fan and got Shinada to sign a ball for him before his game, but Shinada does not remember.
The team are based on the real life Chunichi Dragons team, who are based in Nagoya.
Community content is available under
CC-BY-SA
unless otherwise noted.