Important!
Bio: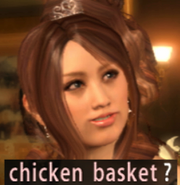 Heya, I'm Ada/Satan (yeah, Literally
™
). I'm trying to get this wiki back up to snuff again. I'm your resident fact checker and writer, so I have a TON of work to do 😤 I have a capture card, so I'm attempting to put out as many good quality screenshots and videos as I can, especially when it comes to the PS3 games.
Support me on Ko-fi! I don't get paid to go through all these dang articles.
Current total playtime across all games (including Ishin and Dead Souls) is over 700 hours. Judgment clocks in at 79+ hours on top of that.
I translate karaoke songs because I love them a little bit too much.
I run the wikifixers discord. It's used for requests, updates/fixes, and discussions on how to improve the wiki further.
Favourite Characters:
Kiryu, Haruka, Majima, Kaoru, Rikiya, Saejima, Yagami, Kaito, Sugiura, Higashi, Saori, Makoto, Shinada, Saaya, Ai, Rina, and Yuki.
(not in any particular order because I love them all)
Favourite games, ranked:
5, 0 & Ishin, 3, Judgment, Dead Souls, K2, Kiwami, 6 and 4
(fuck 4 and those damn rubber bullets)
I've played all of the games aside from Kenzan and the two Kurohyou games. Yeah, I physically own one of the ugliest video game box arts of all time (Yakuza 3). 
YouTube Channels:
Page List:
Favourite Pages:
(Click to expand)
Created Pages:
Pages I've rewritten:
Pages next on my To-Do list:
Pages that need to be created!:
I've got a lovely bunch of Majimas
Useful Stuff
Playstation Face Buttons: 




Templates:
Character Name (Name in Kanji) is a (occupation) in Yakuza. (Short description here).
Hostess Email Template:
Message Contents
Response 1
Response 2
Response 3
+♥
Dialogue Tree Template:
Question 1
Response 1
-♥
Response 2
+♥
Response 3
+♥♥
Template Here for Dialogue Tree.
SPOILER WARNING: Plot details for my pathetic life follow.
(Skip section)

Template Here for spoiler tag.
RIP to these legendary pages
Community content is available under
CC-BY-SA
unless otherwise noted.