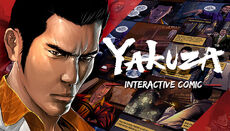 Yakuza "The Dragon's Path" is an interactive comic series lasting ten chapters, that cover the stories of the main series games (Yakuza 0 to Yakuza 6). It explores and expands upon the perspectives of different major characters. It has been made available as part of the Yakuza experience website.
Chapter 1: Pride of Kamurocho
Chapter 2: Showdown at Serena
Chapter 3: The Murder of Dojima
Chapter 4: A Twist of Fate
Chapter 5: The Golden Palace
Chapter 7: The Dragon's Protégé
Chapter 9: The Ties That Bind Part 1
Chapter 10: The Ties That Bind Part 2
Community content is available under
CC-BY-SA
unless otherwise noted.